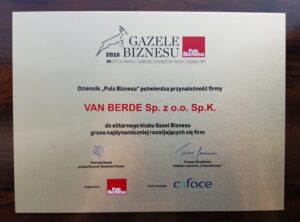 Dziennik PULS BIZNESU potwierdził przynależność firmy Van Berde Sp. z o.o Sp. K. do elitarnego klubu Gazel Biznesu, czyli grona najdynamiczniej rozwijających się firm.
Już kilkakrotnie, PULS BIZNESU wyróżniał Van Berde jako prężnie i dynamicznie rozwijającą się firmę, za co serdecznie dziękujemy. Van Berde co roku stara się zwiększać i modyfikować swoją ofertę, aby odpowiadać na potrzeby swoich klientów i zaspokajać największe wymagania.
Nasza dewiza to nie tylko zysk, ale też ochrona środowiska, którą akcentujemy naszymi wyrobami z recyklatu, które stanowią główną gałąź produkcji. Są to progi zwalniające, podstawy do znaków, pachołki itp. – Wytwarzamy ponad 30. różnego rodzaju podstaw, a roczna sprzedaż sięga ponad 400 tysięcy sztuk, co oznacza 450 pełnych 24-tonowych samochodów.
Rozszerzając swoją działalność na rynki Europejskie i zdobywając coraz to nowszych klientów w Polsce potwierdza tylko swoje zaangażowanie. Branża BRD (bezpieczeństwo ruchu drogowego) jest bardzo dynamiczna, rozwija się a przez to nie można spoczywać na laurach tylko cały czas konstruować swoją ofertę pod kątem nowych trendów i potrzeb tym samym aspirując do Gazel Biznesu.