Nowe kontakty, bogate relacje biznesowe i perspektywa, w którym kierunku rozwija się branża drogowa dały Międzynarodowe Targi INTERTRAFFIC 2022 w Amsterdamie.  Delegacja Van Berde od lat uczestniczy w tych największych targach branżowych, organizowanych na Świecie.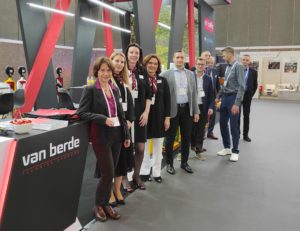 Targi INTERTRAFFIC 2022 odbywały się od 29 marca do 1 kwietnia 2022. Stoisko Van Berde liczące 70 m2 obsługiwało ponad 20 osób. Byli to pracownicy z Polski, a także z oddziałów Van Berde z Litwy, Łotwy i Czech. Odwiedzający stoisko Van Berde mieli okazję bezpośrednio zapoznać się z szeroką ofertą podczas bezpośrednich rozmów, ponad to stoisko wyposażone w wiele produktów Van Berde przyciągało uwagę wielu osób.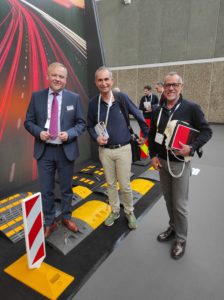 Każdy odwiedzający mógł zabrać ze sobą katalog produktowy oraz zobaczyć i dotknąć nowości. Wyświetlane były filmy prezentujące produkcje wyrobów z recyklingu. Filmy obrazowały jak odpady z recyklingu są wykorzystywane do tworzenia elementów BRD, takich jak podstawy do znaków czy progi zwalniające.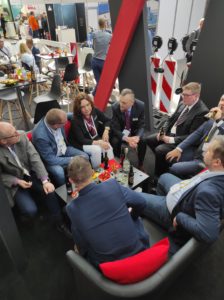 – Międzynarodowe Targi INTERTRAFFIC 2022 to wydarzenie, na którym można nawiązać nowe kontakty, a także spotkać się z firmami z Europy, z którymi na co dzień współpracujemy. W tym roku, po przerwie związanej z pandemią, frekwencja była rekordowa. Spędziliśmy w Amsterdamie bardzo intensywny czas. Bardzo dziękujemy wszystkim odwiedzającym za zainteresowanie naszą ofertą czas spędzony na naszym stoisku – podkreślają właściciele firmy Jarosław Zubiel i Jarosław Pogoda.